Student Health Services (SHS) is part of an integrated wellness area that also includes Mental Health Services, Alcohol & Drug Education Program, Anti-Violence Initiatives, and the Accessibility Resource Center. SHS provides a range of services, including evaluation of a variety of non-emergency illnesses and injuries, vaccinations, gynecological care and planned parenthood, emergency contraception, and annual flu shots.
The mission of Mental Health Services (MHS) is to support the academic goals of the College through assisting students with personal challenges that interfere with their academic progress. We encourage students to attend to all of their developmental needs, whether they be academic, personal, physical, interpersonal, social, or spiritual. Toward this end, we provide an environment that is safe, confidential, and supportive. Our work is guided by the ethical and practice standards of our professions, with the goal of providing the best services possible.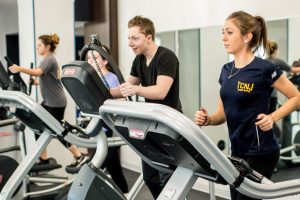 The fitness center is approximately 11,500 square feet and houses resistance training and cardiovascular equipment from leading manufacturers such as Star Trac, Life Fitness, and Pro Maxima. Equipment includes treadmills, stationary bikes, ergs and steppers for different cardio exercises. The center also has a large variety of dumbells, barbells, and weighted plates, along with various benches and equipment for many types of free weight lifting. In addition to the machines and free weights, the fitness center has a large synergy area, perfect for abdominal workouts, stretching, kettlebell and free weight exercises.