Join us October 17 – 18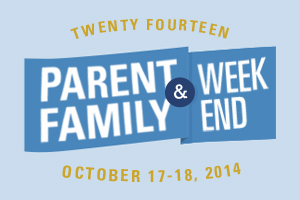 The Division of Student Affairs and the Parent & Family Association are proud to present: Parent and Family Weekend 2014! Parents and family members are welcome to attend all or parts of our two-day jam-packed program that coincides with the annual Community Fest! The College looks forward to your visit to campus and we hope you will have a wonderful experience here with your student!
*Please note: events, times and locations may be subject to change.
Additional Info
Campus parking will be available in lots 5, 6 and 7.
Download list of area activities (pdf)
Questions not answered? Please contact Susie Orecchio by email at sa@tcnj.edu or by phone at 609.771.2201